---
---
George Washington - A Man of God
Collected Variously from Off the Web
---
George Washington, was a man of great faith and prayer. He understood the connection between submission to God and blessings on earth. He realized that a man and a nation must honor God to be blessed.
The following account is from Isaac Potts, an eyewitness who was a resident of Valley Forge in 1777. He shared this with Rev. Nathaniel Randolph Snowden who recorded it in his journal. Snowden's writings cover a period from his youth to 1846. In his records may be found these observations in Mr. Snowden's own handwriting:
"I knew personally the celebrated Quaker Potts who saw Gen'l Washington alone in the woods at prayer. I got it from himself, myself. Weems [author Mason Weems 1918] mentioned it in his history of Washington, but I got it from the man myself, as follows:
"I was riding with him (Mr. Potts) in Montgomery County, Penn's near to the Valley Forge, where the army lay during the war of ye Revolution. Mr. Potts was a Senator in our State & a Whig. I told him I was agreeably surprised to find him a friend to his country as the Quakers were mostly Tories. He said, 'It was so and I was a rank Tory once, for I never believed that America c'd proceed against Great Britain whose fleets and armies covered the land and ocean, but something very extraordinary converted me to the Good Faith!" "What was that," I inquired? 'Do you see that woods, & that plain. It was about a quarter of a mile off from the place we were riding, as it happened.' 'There,' said he, 'laid the army of Washington. It was a most distressing time of ye war, and all were for giving up the Ship but that great and good man. In that woods pointing to a close in view, I heard a plaintive sound as of a man at prayer. I tied my horse to a sapling & went quietly into the woods & to my astonishment I saw the great George Washington on his knees alone, with his sword on one side and his cocked hat on the other. He was at Prayer to the God of the Armies, beseeching to interpose with his Divine aid, as it was ye Crisis, & the cause of the country, of humanity & of the world.
'Such a prayer I never heard from the lips of man. I left him alone praying. 'I went home & told my wife. I saw a sight and heard today what I never saw or heard before, and just related to her what I had seen & heard & observed. We never thought a man c'd be a soldier & a Christian, but if there is one in the world, it is Washington. She also was astonished. We thought it was the cause of God, & America could prevail.'
"He then to me put out his right hand & said 'I turned right about and became a Whig.'"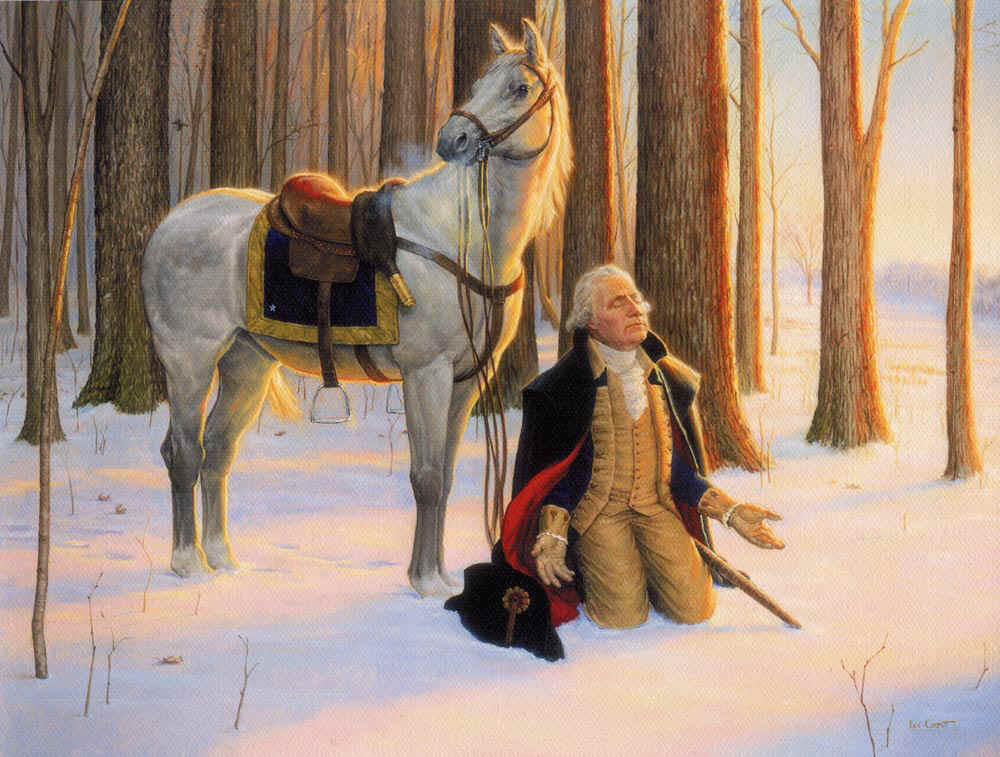 ---
---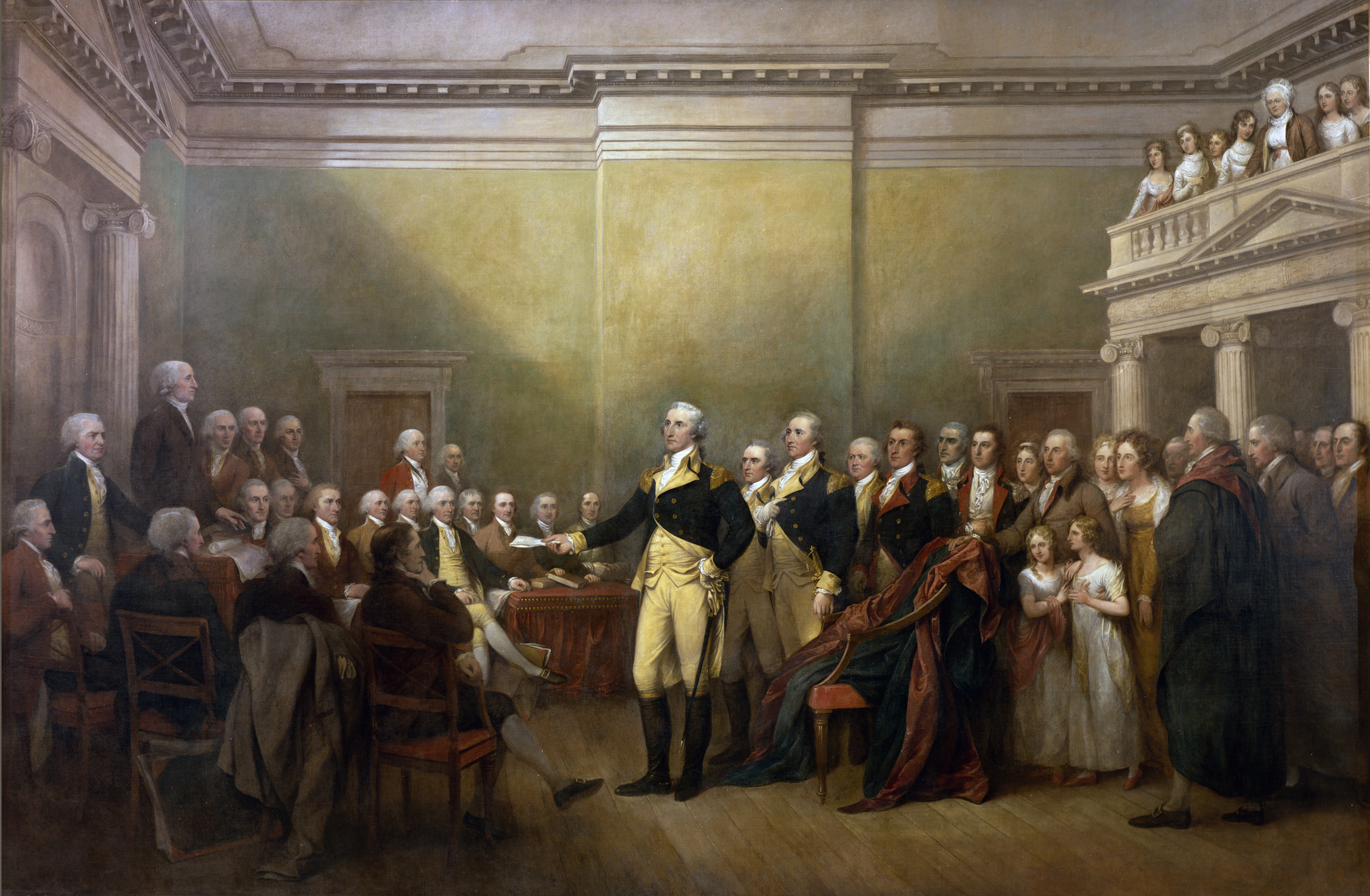 *ADDRESS TO CONGRESS ON RESIGNING HIS COMMISSION

[Annapolis, December 23, 1783.]
"Mr. President: The great events on which my resignation depended having at length taken place; I have now the honor of offering my sincere Congratulations to Congress and of presenting myself before them to surrender into their hands the trust committed to me, and to claim the indulgence of retiring from the Service of my Country.
"Happy in the confirmation of our Independence and Sovereignty, and pleased with the oppertunity afforded the United States of becoming a respectable Nation, I resign with satisfaction the Appointment I accepted with diffidence. A diffidence in my abilities to accomplish so arduous a task, which however was superseded by a confidence in the rectitude of our Cause, the support of the supreme Power of the Union, and the patronage of Heaven.
"The Successful termination of the War has verified the most sanguine expectations, and my gratitude for the interposition of Providence, and the assistance I have received from my Countrymen, encreases with every review of the momentous Contest.
"While I repeat my obligations to the Army in general, I should do injustice to my own feelings not to acknowledge in this place the peculiar Services and distinguished merits of the Gentlemen who have been attached to my person during the War. It was impossible the choice of confidential Officers to compose my family should have been more fortunate. Permit me Sir, to recommend in particular those, who have continued in Service to the present moment, as worthy of the favorable notice and patronage of Congress.
"I consider it an indispensable duty to close this last solemn act of my Official life, by commending the Interests of our dearest Country to the protection of Almighty God, and those who have the superintendence of them, to his holy keeping.
"Having now finished the work assigned to me, I retire form the great theatre of Action; and bidding an Affectionate farewell to this August body under whose orders I have so long acted, I here offer my Commission, and take my leave of all the employments of public life."
---
Circular Letter to the States:
When Washington sought to retire from public life in 1783, he closed his final letter to the states with these words:
"I now make it my earnest prayer, that God would have you, and the State over which you preside, in his holy protection, that he would incline the hearts of the Citizens to cultivate a spirit of subordination and obedience to Government, to entertain a brotherly affection and love for one another, for their fellow Citizens of the United States at large, and particularly for their brethren who have served in the Field, and finally, that he would most graciously be pleased to dispose us all, to do Justice, to love mercy, and to demean ourselves with that Charity, humility, and pacific temper of mind which were the Characteristics of the Divine Author of our blessed Religion, and without an humble imitation of whose example in these things, we can never hope to be a happy Nation."
George Washington was taught by his mother as a small boy to know God and to cry out to Him in prayer. Her influence on him cannot be underestimated. The man that he would become who understood the need to ask Almighty God for assistance and aid was formed in him when he was a child at his mother's knee. She read to him daily from good books and from the Bible, and he turned to God throughout his life for strength, wisdom and divine intervention.