PHILO DIBBLE JR.
Compiled and Annotated by Don R. Hender (Great Grandson)
(The Philo Dibble Jr. history came to us through the help of Carmen Dibble. Her husband Ralph Dibble, who served in the Stake Presidency of the Layton Stake for many years, is the grandson of Philo Dibble. Carmen, his wife, served on the General Board of the Primary for many years. After she compiled a short history of the Dibbles, she received another history from Edwin S. Dibble written October 1973. This history is a combination of the two.)
Philo Dibble Jr., was born October 17, 1835 in Liberty, Clay County, Missouri, and as a small child suffered with the family at the hands of mobs in Missouri and Illinois. He was about four years of age when the family was driven out of Missouri into Illinois, and came West with the family when that state drove them out. He was about sixteen(thirteen?) years old when they crossed the plains.
His son, David Dubois Dibble, age 97, recalled that his father came across the plains in 1848 with an uncle, Sidney Kent [as part of the Brigham Young Company (1848)]. Philo helped Uncle Sidney with his stock, driving them across the plains, guarding them at night from the Indians and helping with other things. Sidney Kent later settled in the Logan area [died in Lewiston 1914 but actually lived in Bountiful, Utah for many years and all his 10 children by Mary Matilda Daley were born in or near Boutiful, Utah] and would visit the family when he came to Salt Lake for conference. Although David was only a small boy, he loved to sit up with the others at night and hear them reminisce about old times. [Note: The 'offical word' per LDS records have Philo Jr. coming across with his family in 1851 with the 'Thomas S. Williams Frieght Train' (departed Kanesville/Council Bluffs Iowa 3 August 1851 & Arrived SLV 25 August 1851 - in just 17 actual travel days) and the 1850 census places him back in Pottawattamie, Iowa with his family in 1850, but this 'discrepancy' can be easily solved by a simple presumption. Philo Jr. may will have traveled with the Sidney Benajah Kent and Mary Matilda Kent 'family' in 1848 and was one who went up and came back, 'up and back', thus being back with his family in Pottawattamie/Council Bluffs in 1850/1851 for the Census and when they did travel with another company, a small but expedicious 'freight train' company].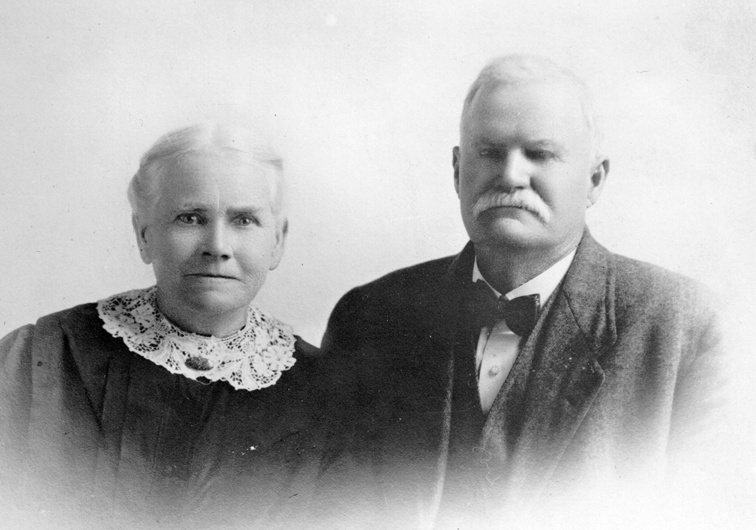 Philo Dibble Jr. married Antoinette Cleveland, who was a daughter of Henry Alanson Cleveland, one of the early settlers of Centerville. They had nine children, all of whom were born in Centerville. They were Celia Ann, Philo Alanson, Edwin Cleveland, Sidney Delroy, George Elliot, Laura Antoinette, David Dubois, Emma Almyra and Rudolph Kent.
In 1863 Philo Jr. moved to Centerville, Utah. While living there he was called in the spring of 1874 to join Horton D. Haight's Company to explore and colonize the Little Colorado River country, but Captain Haight found nothing but box canyons and sand and turned back. Had he continued on he would have been the first to settle the Gila River Valley in Arizona and Philo's descendants most likely would have been natives of Arizona instead of Utah.
After the return from Arizona, Philo Jr. continued to farm in Centerville. He owned fifteen acres just out of town and two lots in town. He grew wheat, corn and potatoes and each winter had a beef ready to butcher. The family had plenty to eat but money was very scarce so he spent many winters hauling ore from the mines in Little Cottonwood Canyon to the railroad at what is now Midvale, Utah. He also hauled goods from the railroad terminus in Wyoming to Salt Lake City through Weber canyon.
Once he was sent with a group of men to rescue a company of immigrants who were stranded on the plains in the snow. He tells of bedding down at night on the frozen ground and waking in the morning under two feet of snow. (see 'Handcart' 2nd source below.)
In the spring of 1877 Philo went north to what was known as the Sand Ridge and homesteaded a quarter section of land, now in the town of Syracuse, Utah. He built a log cabin and the family lived there in the summers and moved back to Centerville for the winter months so the children could attend school. As the sagebrush was cleared away on the homesteaded land it was brought up by the house so it could be used for fuel, for warmth and for cooking. He planted grain on the Ridge, and when the rains were right the yield was as high as thirty bushels of wheat per acre. The family rode the Utah Central train some of the time when they were traveling to and from Syracuse. The Utah Central went between Ogden and Salt Lake City, There were no passenger cars, but the people who rode on the train would ride in the caboose.
Finally, in 1880 he sold his property in Centerville and moved to the Sand Ridge farm. The family spent several very severe winters there. To solve the problem of school for the children he purchased the Joseph Allred farm in Layton, Utah in 1882. This farm was near the Denver and Rio Grande Railway Station. From there the children walked two miles to the little school house at Five Points.
Conditions improved and the family prospered. Philo built a comfortable home and by 1902 had an excellent farm. He also acquired one hundred and sixty acres of land a mile west of the family home which he later divided among his children.
Philo Jr. continued farming and helped promote the Davis and Weber County Canal Company in which he held stock. The Biographical Record of Salt Lnke City and Vicinity, by National Historical Record Company, Chicago 1902, makes this statement: "Philo Dibble Jr. is one of the successful and substantial agriculturalists and stockmen of Davis County, his home being at Layton, where he has spent many of the best years of his life. He has taken a prominent and active part in building up Davis County and is among the most highly respected citizens of his county."
Antoinette Cleveland Dibble's father was an early convert to the Mormon Church and his family also experienced the persecution of these poeple. Antoinette was born in Nauvoo, Illinois, 20 June 1844, the year the Prophet Joseph Smith was murdered. She comes through a distinguished line of which the first in America was Moses Clevelend.
In politics, Philo Jr. was a Democrat and he worked in the ranks of that party. He held office as a Justice of the Peace and served as Constable of Centerville. He was baptized a member of the church by his father in Nauvoo, Illinois in 1843 and was an active member all his life. He filled a mission for the Church in the Southern States and held the office of High Priest.
Willie and Martin Handcart Companies
According to 'The Story of Eliza Ann Dibble and Her Three Husbands', Chapter 14, 'Their First Home in the Valley', page 51 of the typed manuscript, Philo Dibble Jr. (age 21) is reported to have gone on the rescue of the snow bound handcart companies. I quote from that record:
"Philo jr. was sent with a group of men to rescue a company of immigrants who where stranded on the plains in the snow. He bedded down at night on the frozen ground and woke in the morning under two feet of snow. He probably went out to help the members of the Willie and Martin Handcart Companies caught in the winder snow the fall of 1856."

The Utah War

Philo served under Lot Smith through all the Johnston's Army troubles and was with him when he was sent to intercept the army wagon trains east and north of Fort Bridger, Wyoming. They burned seventy-four wagons and their cargoes. On this expedition, Philo cut his name on a cliff near Evanston, Wyoming, with the date 24 Nov. 1857. As of 1957 it was still plainly visible and a picture of it appears in the Salt Lake Tribune Home Magazine Section for 29 December 1957.

Film 143-40 Journal History 1869, 20 March, contains a news item from the Deseret News for Centerville, Philo Dibble being listed as a director of the Co-operative Store opening on 20 March 1869. Capital stock, two-thousand dollars.

Philo Dibble Jr., was not long on talk. Characteristic of him is an incident that happened after his wife died. His grandson said, "My mother, when she baked bread for us, included some for grandfather and sent me on the bicycle to deliver it. After this routine had gone on for some time, something in the empty sack bumped against the bicycle frame on my way home one day. Grandfather had put a beautiful new pocket knife in the sack as he took the leaves of bread out. When I thanked him for it later he let on as if he did not know what I was talking about. I prized the knife and used it for many years until I finally lost it through the hole it wore in my pocket."

Philo Dibble Jr. Family

As already reported, Philo Dibble Jr. married Antoinette Cleveland. Antoinette Cleveland was the daughter of Henry Alanson Cleveland of the Cleveland family which descended from Moses Cleveland. Her mother was Ann Slade the daughter of Mary (Molly) Knight Slade. Mary (Molly) Knight was the daughter of Benjamin Knight and Sarah Crouch and sister of Joseph Knight Sr. a noted friend of the Prophet Joseph Smith. Newel Knight who was the mouth piece of the saving blessing which saved Philo Dibble Sr. from death from the mortal wound he suffered at the Battle above Big Blue, is the son of this Jospeh Knight Sr. and therefore Mary (Molly) Knight's nephew. That inter family connection is what allowed Philo Dibble Jr. to be born as he was conceived and born after that priesthood healing blessing of his father Philo Dible Sr. And thus the grand daughter of Mary (Molly) Knight, Antoinette Cleveland was provided with ] the husband she married, Philo Dible Jr.

The adult Dibble family of Philo Dibble Jr. and Antoinette Cleveland are here to be seen. They are on the top row from left to right David Dubois Dibble, Rudolph Kent Dibble, Sidney Delroy Dibble, George Elliot Dibble, and Edwin Cleveland Dibble. On the bottom row from left to right is Emma Almyra Dibble, Laura Antoinette Dibble (my grandmother), Philo Dibble Jr., Antoinette (Cleveland) Dibble, and Celia Ann Roberts Dibble the wife of B. H. Roberts of the Seventy. Not shown in the adult family picture is Philo Alanson Dibble, son of Philo Dibble Jr. and Antionette Cleveland as he died as a child and did not live to adulthood. It is the Dibble family who descended from George Elliot Dibble who still live on the Philo Dibble Jr. farm in (West) Layton, Utah today.

Philo Dibble Jr. is often reported to have died on the 7th Dec. 1915 in Layton, Utah in his home. The Deseret News of 17 Dec. 1915 carried the notice which gives the death date as Dec. 4 and the funeral date as December 7.

---

---

Rev. December 30, 2013